MVDB Dealer Talk Newsletter
Get the latest information with each new edition of our newsletter delivered right to your Inbox! Issues come out every two months.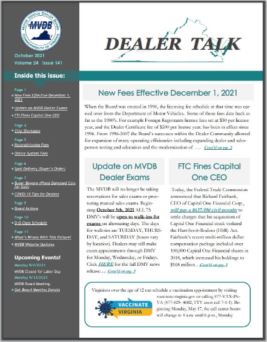 Subscribing to the MVDB Dealer Talk Newsletter is the best possible way to keep informed on news, trends, best practices and other information that affects your dealership. Dealer Talk is free …
Don't hesitate, subscribe now! 
DEALER TALK 2023
DEC 2023
OCT 2023
AUG 2023
JUN 2023
APR 2023
FEB 2023
DEALER TALK 2023
DEC 2023
OCT 2023
AUG 2023
JUN 2023
APR 2023
FEB 2023
DEALER TALK 2022
DEC 2022
OCT 2022
AUG 2022
JUN 2022
APR 2022
FEB 2022
DEALER TALK 2022
DEC 2022
OCT 2022
AUG 2022
JUN 2022
APR 2022
FEB 2022
DEALER TALK 2021
DEC 2021
OCT 2021
AUG 2021
JUN 2021
APR 2021
FEB 2021
DEALER TALK 2021
DEC 2021
OCT 2021
AUG 2021
JUN 2021
APR 2021
FEB 2021
DEALER TALK 2020
DEC 2020
OCT 2020
AUG 2020
JUN 2020
APR 2020
FEB 2020
DEALER TALK 2020
DEC 2020
OCT 2020
AUG 2020
JUN 2020
APR 2020
FEB 2020
DEALER TALK 2019
DEC 2019
OCT 2019
AUG 2019
JUN 2019
APR 2019
FEB 2019
DEALER TALK 2019
DEC 2019
OCT 2019
AUG 2019
JUN 2019
APR 2019
FEB 2019
DEALER TALK 2018
DEC 2018
OCT 2018
AUG 2018
JUN 2018
APR 2018
FEB 2018
DEALER TALK 2018
DEC 2018
OCT 2018
AUG 2018
JUN 2018
APR 2018
FEB 2018
DEALER TALK 2017
DEC 2017
OCT 2017
AUG 2017
JUN 2017
APR 2017
FEB 2017
DEALER TALK 2017
DEC 2017
OCT 2017
AUG 2017
JUN 2017
APR 2017
FEB 2017
DEALER TALK 2016
DEC 2016
OCT 2016
AUG 2016
JUN 2016
APR 2016
FEB 2016
DEALER TALK 2016
DEC 2016
OCT 2016
AUG 2016
JUN 2016
APR 2016
FEB 2016
DEALER TALK 2015
DEC 2015
OCT 2015
AUG 2015
JUN 2015
APR 2015
FEB 2015
DEALER TALK 2015
DEC 2015
OCT 2015
AUG 2015
JUN 2015
APR 2015
FEB 2015
DEALER TALK 2014
DEC 2014
OCT 2014
AUG 2014
JUN 2014
APR 2014
FEB 2014
DEALER TALK 2014
DEC 2014
OCT 2014
AUG 2014
JUN 2014
APR 2014
FEB 2014
DEALER TALK 2013
DEC 2013
OCT 2013
AUG 2013
JULY 2013
APR 2013
FEB 2013
DEALER TALK 2013
DEC 2013
OCT 2013
AUG 2013
JULY 2013
APR 2013
FEB 2013
DEALER TALK 2012
DEC 2012
OCT 2012
AUG 2012
JUN 2012
APR 2012
FEB 2012
DEALER TALK 2012
DEC 2012
OCT 2012
AUG 2012
JUN 2012
APR 2012
FEB 2012
DEALER TALK 2011
DEC 2011
OCT 2011
AUG 2011
JUN 2011
APR 2011
FEB 2011
DEALER TALK 2011
DEC 2011
OCT 2011
AUG 2011
JUN 2011
APR 2011
FEB 2011
DEALER TALK 2010
DEC 2010
OCT 2010
AUG 2010
JUN 2010
APR 2010
FEB 2010
DEALER TALK 2010
DEC 2010
OCT 2010
AUG 2010
JUN 2010
APR 2010
FEB 2010